Foundation Repair and Basement Waterproofing Near Winston-Salem, NC
At Affordable Waterproofing & Foundation Repair, we understand how important it is to protect your home from water damage. Water can not only cause serious structural or foundation damage, including sagging floors but also leads to mold growth and health hazards for you and your family. This is why basement waterproofing companies in Winston-Salem like ours offer a wide range of services to North Carolina homeowners like you.
While our professional contractors initially approach each project similarly, we certainly don't address concerns in a uniform way. Instead, our Affordable Waterproofing & Foundation Repair team employs a wide range of proven solutions to addressing issues in your basement that we identify during inspection.
Our goal is to address leaks that are causing you to have a wet basement. We also tackle moisture build-up issues and perform any other foundation repair services needed to stave off much bigger issues.
Our experienced professionals are dedicated to providing you with the best service possible. We only use the highest-rated quality materials and the latest technology to ensure your home is protected from water damage for years to come.
Skilled Basement Waterproofing Services Near Winston-Salem
If you are experiencing water seepage or flooding in your basement, it's time to take action. Our basement waterproofing services near Winston-Salem center around the implementation of repair solutions to eliminate leaks causing your wet basement issues so that further preventative measures we utilize keep your basement dry and free of moisture in the long term. To this end, our Winston-Salem basement waterproofing company offers a wide range, including the following, to assist with the elimination of excess water and moisture, including the installation of:
Rain tile systems

Sump pumps
In the case of sump pumps, they're essential to any basement waterproofing system. A sump pump removes excess water from your basement, which is instrumental in preventing flooding. Sump pump systems we offer help keep your basement dry and free of water.
A French drain and rain tile system can also help remove excess water from your basement by channeling it away from your home's foundation, thus, preventing it from causing structural damage or flooding your basement.
Foundation Repair Services Our Winston-Salem Basement Waterproofing Company Offers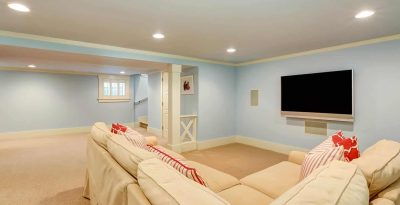 If water damage has affected the integrity of your home's foundation, it is important to get it repaired as soon as possible. Our foundation repair services can help restore your Winston-Salem home's structural integrity and prevent further damage.
Our skilled technicians offer a wide array of repair services, including:
Crack repair

Wall repair

Foundation stabilization
As for the latter, one of the basement waterproofing solutions our skilled contractors often use to stabilize your home's foundation includes epoxy injections and wall anchors.
Affordable Waterproofing Also Offers Crawl Space Repair Work and Crawl Space Encapsulation
While we go into further detail about the crawl space repair work elsewhere on our site, we feel it's still important to mention it here, as many Winston-Salem, NC, homes may have both basements and crawl spaces.
A home's crawl space is also vulnerable to water damage. Unless you waterproof your crawl space or basement, the soil or ground that underlies your home experiences prolonged exposure to water. This can cause wood to become water-logged and concrete walls to start developing cracks. Additionally, the damp and humid environment in the crawl space could lead to mold growth and other health hazards.
Here at Affordable Waterproofing in Winston-Salem, NC, we offer crawl space repair, dehumidifier and vapor barrier installation, as well as crawl space encapsulation, which, combined, tends to reduce the further threat of foundation problems and other health and safety dangers becoming a problem for many homeowners.
Thus, whether you're in need of crawlspace repair or basement waterproofing near Winston-Salem, we have you covered! Just press the green button below for a free estimate.
What Sets Basement Waterproofing Companies Winston-Salem Like Us Apart From The Rest
When you are looking for local and reliable basement waterproofing near Winston-Salem, you want to know that you are choosing the best company for your needs. Several attributes set us a cut above the rest of other Winston-Salem basement waterproofing companies, including:
Our experience and expertise

– As a Winston-Salem basement waterproofing business that's been in operation for more than 60 years, we have a lot of first-hand exposure to virtually anything and everything that could go wrong. We know how to navigate the challenges of any issue that may arise. You can rest easy knowing that we offer the best solutions for your unique needs.

Custom-tailored services

– Our professional team knows that every home and situation in the Winston-Salem, NC area is unique. To ensure that we are meeting our customers' specific needs and budgets, we work closely with you to develop a personalized solution that can help you achieve the results you are looking for.

Customer satisfaction

– We know the value of our customers, which is why their satisfaction comes first. We work tirelessly at each project location across our service area with the goal of making sure you're completely satisfied with the services that we provide. Our goal as your waterproofing team is to exceed your expectations by taking the necessary steps to protect your structure, your Winston-Salem, NC house, which starts with ensuring you have a dry, safe, and comfortable basement.
When looking for someone to help make your home a safe place to live, do not settle for less from the contractors handling your job. Choose our Winston-Salem basement waterproofing services company if you want to ensure the right solutions are implemented that restore your home's solid foundation and give you the results you deserve today.
Contact Affordable Waterproofing & Foundation Repair in the Piedmont Triad Region of NC
If you are looking for basement waterproofing companies near Winston-Salem, NC, look no further. At Affordable Waterproofing, we offer personalized service and proven solutions in addition to being efficient, meticulous, and reliable.
We provide top-quality basement waterproofing and foundation repair services to homeowners in Winston-Salem, NC and the surrounding areas. Our extensive Tar Heel service area means we work on basements in and between the following cities:
Winston-Salem

Burlington

High Point

Greensboro
Schedule your free initial estimate today and see for yourself how we can provide you with the high-quality services you and your home need. We'll schedule a time that's convenient for you to come to your project location so we can inspect what's going on.
We are happy to answer any questions you may have about basement waterproofing near Winston-Salem and provide you with the information you need to make an informed decision about protecting your home from future water damage issues.