Basement Waterproofing Greensboro
Finding the right basement waterproofing contractors for your home's waterproofing needs can seem like a daunting task– but it doesn't have to be. At Affordable Waterproofing & Foundation Repair, our foundation repair contractors have over sixty years of experience assessing, fixing, and preventing basement waterproofing problems both in and around the Triad area. Whether it's repairing foundation walls, stopping basement leaks and water seepage, mold remediation or something completely different, we pride ourselves on being a basement waterproofing company that won't rest until we've found the solution to your waterproofing needs. Committed to being the best waterproofing contractor in Greensboro, we hire local experts that have a bead on the topography of the area and are well-equipped to not only fix the problems your home may be suffering from but to do so in a way that increases the value of your home. And, as our name suggests, we emphasize affordability in all of the services we provide– right up to the free estimate you receive in-home at your convenience before we start any work.
What Makes Us The Best Waterproofing Contractors In Greensboro
At Affordable Waterproofing & Foundation Repair, we have a keen eye for detail. That means that while other waterproofing companies simply chalk up complex issues to foundation problems and proceed to patch over basement leaks or foundation cracks so they can collect their check and leave, we take the time to assess the situation– ensuring that what seems like a minor foundation crack is, indeed, that– and nothing more serious that could indicate the need for structural repair or more advanced work. Our detail oriented approach has served us well for the past six decades, and the problems we've caught– things like bowing or sinking walls, additional water damage from water intrusion, standing water, or basement flooding and more– have saved hundreds of clients time, money, and unnecessary headaches. 
But it's not just our eye for detail that has allowed us to excel as Greensboro's premier basement waterproofing experts for so many decades. We also hold a fierce commitment to our clients– and we place a premium on being both accessible and available whenever they may need us. In fact, it's that same commitment to our clients that inspired us to transition to a 24/7 service many years ago– keeping our doors open and rotating on-call foundation contractors to ensure we're only one call away if an emergency arises.
The way we see it, basement waterproofing is never fun for the client. Oftentimes, the client has called us because a red flag issue has been discovered and an immediate fix is needed– and because figuring out how the issue will be paid for, how it was caused, and what to do in the meantime can stress even the most relaxed of clients out, we feel it's our job to rectify the issue as quickly and efficiently as is safely possible. Our job revolves around the client's needs– and it always will.
Our Basement Waterproofing Process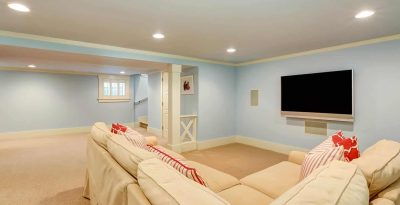 Because basement waterproofing can be a complex undertaking, our process starts with a comprehensive in-home inspection and estimate to gauge the work that will need to be done. Whether it's crawl space encapsulation or more generic basement repair work, this two step process allows us to provide a transparent pricing quote and an estimated time of completion to the client before they bring our company onboard. With knowledge of what the work will entail and how long it will take, some clients opt to contract a home inspector as well to see if there is any more work that can be done. We work hand in hand with inspectors around the Greensboro area to ensure all foundation repairs and any basement waterproofing system modifications we make align with the property's codes.
After your inspection and estimate are complete, we begin fixing the problem. A licensed and insured foundation repair contractor assesses the results of the inspection and gets to work repairing or replacing the damage. We strive to get projects done as quickly as we safely can while minimizing the noise and distraction that usually comes from basement foundation work. Whether we're drilling through basement walls, upgrading the drainage system, or applying spray foam insulation, we work so that you can continue to enjoy the comforts of the rest of your home with minimal interruption. Work is completed during normal business hours (except in the case of an emergency), and it's always completed on time, on budget, and with a focus on quality.
Whether you're looking for crawl space repair help, exterior waterproofing, basement restoration services, general foundation waterproofing, or other work involving basement waterproofing or a leaky basement, getting started is as simple as contacting us for a free, in-home estimate. Available 24 hours a day, seven days a week, we are the Triad's premier solution for your basement waterproofing needs!