French Drain Installation Greensboro
Affordable Waterproofing & Foundation Repair is a certified and licensed company. We provide basement French drain installation to areas in and around Greensboro, Asheboro, and the rest of North Carolina's Piedmont Triad. Also, we are available 24-hours daily. If you need professional French drain installation, call us. Our local French drain contractors have years of practice in this field. Therefore, our services are reliable and unmatched. Our contractors complete exterior basement waterproofing projects within agreed deadlines. With us, there is no delay or laziness. Furthermore, our French drain installation is cost-effective. It saves you the cost of in-house waterproofing. French drains are simple and easy to fix if an issue arises.
Our products are long-lasting and of high quality. The drains are rust-resistant and strong. In fact, our gadgets have top-notch industry warranties. For this reason, our French drain installation is the best choice available. Likewise, we are a trusted exterior basement waterproofing company. Our drains prevent future leakage in basements. We offer permanent solutions.
French Drain Contractors Greensboro
Since French drains are easy to install, they are popular. Our french drain contractors routinely conduct installation services. They have insurance and the North Carolina-mandated permits required to do the job correctly. Our experts customize exterior basement waterproofing to fit the client's needs. After all, every home is special. So, one solution may not fit all. Additionally, our French drain contractors perform full-home services. A full service covers a wide range of waterproofing problems. On the other hand, halfway improvements have limits. At any rate, do not rely on do-it-yourself French drain installation. It may not turn out as expected. For this reason, call our contractors to install French drains for you.
We are happy to provide complete home waterproofing services to our clients. We have simple and straightforward financing plans. Plus, you get to enjoy discounts from our company.
Exterior Basement Waterproofing Greensboro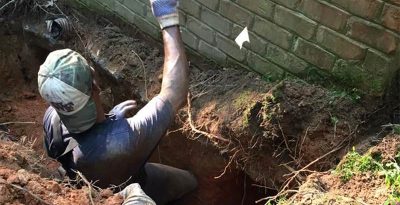 We have an excellent background in exterior basement waterproofing. Also, we are a popular French installation company in Greensboro and Winston-Salem. Indeed, we are the best option for basement waterproofing. Our contractors are experts in French drain installation. Moreover, it does not matter which type of foundation you have. Our contractors waterproof every kind of basement. The products we use are eco-friendly.
Waterproof walls keep basements dry and mold free. Exterior basement waterproofing is an option only if interior repair is futile. Additionally, the drains are set to empty wherever you want. However, exterior basement waterproofing requires digging up dirt. Our French drain contractors are precise while digging. They don't wreck walls or leave debris lying around. With us, your home is in good hands.
Unfortunately, classic drains always clog. As a result, our company only uses modern drains. Our French drain contractors install clog-free designs. Silt doesn't block these drains easily.
Basement Waterproofing in Greensboro
Our French drain installation is first-rate. Even more, our drains are sturdy and competent. The products we use have lifetime warranties. Hence, we assure you of longlasting repairs. Luckily, our French drain installation is cost-saving. It spares you from in-house waterproofing projects. Exterior basement waterproofing stops foundation damage by water. Also, the coating reduces dampness levels in the living space.
Our French drain contractors solve water backflow issues. By solving this problem, we prevent flooding recurrence. A good installment keeps your house dry and flood-free. Our contractors ensure waterproofing is correctly done. Our company also has numerous referrals for jobs well done.
For information on foundation repair, please see our Foundation Repair page.